Providing Expert HVAC Services in Thornville, Ohio
In the northwest corner of Perry County lies Thornville, Ohio. The village of Thornville is located minutes from Lancaster, Newark and Zanesville. Thornville is a small village with a population of just under 1,000 with 300 families. Residents of Thornville enjoy the community swimming pools, parks, and its close proximity to Buckeye Lake. Thornville hosts The Backwoods Festival, which is 3 days of food and bluegrass music. We here at Newark-Heath Heating & Cooling are honored to provide our services to the citizens of Thornville. 
Newark-Heath Heating & Cooling is proud to be part of the Newark and Heath communities. With our stress-free and quick scheduling options, we are here to help you. Call us today at (740) 212-5849 to speak to one of our friendly customer service representatives, or schedule online with our convenient online form and we'll contact you shortly to schedule an appointment. We look forward to providing you with the best HVAC services in the community.
Let our skilled HVAC experts help you today!
Get a quick and easy HVAC quote!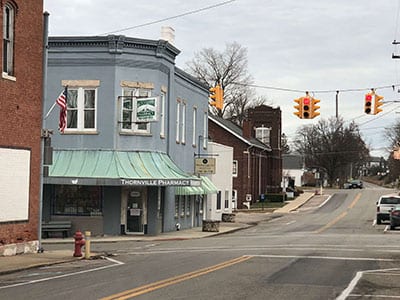 Local Reviews
for Thornville, OH
Powered by Nearby Now
---
Mike B.
125168
Near
Bateson Dr NE,

Thornville

,

OH

43076
Mike B.
I performed a diagnostic service call on a GoodMan gas furnace. Upon arrival I found a propane leak, this unfortunately is not one of our services. I highly recommend customer call someone to come out for that leak soon as possible. I will be returning to perform a tune-up and cleaning on unit.
Near
Shelley Rd,

Thornville

,

OH

43076
Janaea J.
I performed an inspection of an installation on a Carrier 80% 70,000 BTU Gas Furnace and a Carrier 13 SEER 3 Ton Air Conditioner. I inspected unit to ensure installation was performed correctly, like the pilot lights, making sure filters fit and are clean, making sure the pipes have the proper slopes etc.
Near
Township Hwy 390B,

Thornville

,

OH

43076
Mike B.
I performed a scheduled maintenance agreement tune-up on a Good man mini split and HP. Upon arrival I noticed the AC is very dirty, so I cleaned and scrubbed it, then cleaned the mini split. I pulled the filter if mini split and cleaned that as well. Lastly I added some Freon, upon departure system was operational.
Near
1st St NE,

Thornville

,

OH

43076
Mike B.
I performed a diagnostic on an air conditioner unit. I found that the blower motor fan is very dirty and quoted price to clean but due to age of unit do not recommend. I also found a hole in the duct work so I sealed it up. I recommended replacing the entire HVAC system and quoted the price.
Near
Township Hwy 390B,

Thornville

,

OH

43076
Mike B.
Upon arrival for service call on 1998 Lennox furnace, customer states exhaust blowing cold air happens every year. Another company was out and told them to keep fresh air intake off because their may be something clogged in PVC pipe. Found problem with wiring at pressure switch and high limit. Switched and cleaned it up. No issues now.
Near
N Main St,

Thornville

,

OH

43076