Air Conditioner Maintenance in Newark and Heath
Similar to getting the oil changed in your car, having your air conditioner regularly serviced is equally important. Protect your investment. Air Conditioners that go through regular maintenance last 40 percent longer than those that do not.
It's like we say when it comes to any HVAC system, it always pays off, in the end, to be proactive rather than reactive.
Check out our other Air Conditioner Services: AC Repair and AC Installation + Replacement.
So call us today to have your air conditioner serviced! If you're ready to have a seasoned, licensed HVAC technician examine your air conditioner to ensure it lasts for as long as possible, Schedule Now online or call us at (740) 212-5849.
6 Reasons Why You Should Get Maintenance on Your Air Conditioner
Whether your air conditioner is malfunctioning, if it's not working like it used to, or if you feel it is ready for replacement, Newark-Heath Heating & Cooling is here for all your HVAC consideration, from maintenance to new system installation. Here are some common reasons why your air conditioner needs maintenance.
Poor Airflow
Hot and Cold Spots In the House
High Energy/Utility Bills
Loud or Strange Noises
Foul or Unusual Odors
Blower Fan Continuously Running
What Happens During an A/C Maintenance Appointment?
During an A/C servicing, our maintenance technicians will inspect your air filter to determine if it's dirty or clogged up. If there is enough dirt or dust on your air filter, it will hinder airflow. Our technicians typically either clean your air filter or they replace it if needed. Our technicians can also check your ductwork.
Air conditioning maintenance inspections usually also include inspecting the motor, your blower, your drain lines, your coils, your operating pressures and temperatures, your return and supply lines, your refrigerant levels, and your connections.
Call Today to Schedule a Repair on Your Air Conditioner and Cooling System
Why Cooling and Air Conditioner Maintenance is Important
Cooling and air conditioner maintenance is important because it prolongs the life of your system, ensuring its longevity while keeping it performing optimally, which will save you on energy. Often, the maintenance extends the life of your warranty as well. Other benefits include identifying potential problems before they arise so you aren't left without service during those hot days, those dog days, of summer. We at Newark-Heath Heating & Cooling provide all the HVAC services you might need.
SAVE INSTANTLY with our A/C Tune-Up + Check Out Online Deal.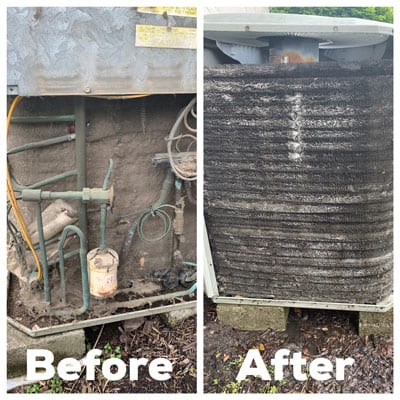 Save More With Our Whole Home Protection Plan
At Newark-Heath Heating & Cooling, we offer our customers additional savings with a Whole Home Protection Plan. This plan ensures your systems will operate at their best year-round, reducing the chances of a breakdown and all the while giving you sound peace of mind.
Why Choose Newark-Heath Heating & Cooling For Your A/C Maintenance?
We at Newark-Heath Heating & Cooling understand you work hard for your money and strive to keep you and your family safe and comfortable during the hottest months of the year. You want the most bang for your buck, and we realize this. We are a Five Star Rated family business built on values. Using top of the line products and technology at affordable rates, our courteous service professionals are the most qualified in the HVAC field and strive to give you the best customer service experience possible.