Gas Furnace and Electric Furnace Maintenance in Newark and Heath
When it comes to furnaces, homeowners should look at their furnaces no differently than they look at their car. Both are costly investments. And both need regular maintenance for longevity. So too is the same with gas and electric furnaces. Both gas and electric furnaces will need routine maintenance.
Regular routine maintenance will not only ensure the units continue operating efficiently, but it will also prolong the life of your unit and its warranty. An improperly maintained unit will not only neglect to heat your home properly, but it can also be inefficient and potentially even dangerous. Each style of the unit can become a fire hazard. Gas units generate combustion byproducts that need to be safely and properly vented out of the building it's heating.
We strongly suggest, as do other companies, that you have your furnace serviced each and every year. Doing so is an inexpensive way to ensure safety as well as longevity, and it should save you money in the long term.
Learn more about our other furnace services: Furnace Repair and Furnace Installation + Replacement.
If you are looking for a reputable company to service your system, call us today at (740) 212-5849.
6 Reasons Why You Should Get Maintenance on Your Furnace!
Ask around in the industry and every professional will tell you: Your home's furnace should be serviced at least once each year to guarantee that it is functioning properly and in a safe condition. Moreover, furnace manufacturers themselves suggest annual inspections in addition to maintenance by a certified technician. Typically, their warranty terms are specific about the damage that is caused by improper maintenance. At Newark-Heath Heating & Cooling, we provide all the HVAC services you need: heating repair, maintenance, and new system installation. We can keep your warranty valid so you won't be caught off guard. Below are six reasons why you should have your furnace maintained regularly.
Ensures Proper Airflow

Keeps you and your family safe

Reduces the need for repairs

Saves everyone time

Improves energy efficiency

Maintains manufacturers warranty
What Happens During a Furnace Maintenance Appointment?
During a furnace tune-up, a maintenance technician typically cleans and checks over all your heating equipment, identifying areas of wear and tear, and recognizing what needs to be done to ensure its longevity. A technician can recognize failing parts that are in need of replacement before they become a substantial problem. A tune-up alone often improves energy efficiency by up to 30 percent instantly.
Schedule a Repair on Your Air Conditioner and Cooling System
Why Heating and Furnace Maintenance is Important
One of the biggest reasons for furnace maintenance is cost savings. If your furnace is operating at peak efficiency as it should, it does not need to work as hard to generate the same amount of heat. This efficiency, in turn, saves you money. On top of that, investing in routine maintenance decreases the chances of having to come out of pocket to make expensive repairs or replacement costs in the future. We at Newark-Heath Heating & Cooling offer all the HVAC services you could need. Give us a call today.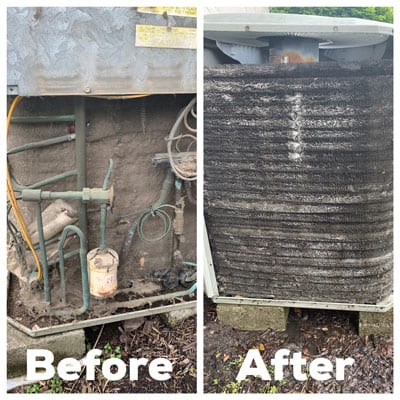 Save More With Our Whole Home Protection Plan
At Newark-Heath Heating & Cooling, we offer our customers additional savings with a Whole Home Protection Plan. This plan ensures your systems will operate at their best year-round, reducing the chances of a breakdown and all the while giving you sound peace of mind.
Why Choose Newark-Heath Heating & Cooling For Your Furnace Maintenance?
You have to be sure your furnace or heating system works reliably in our cold Newark and Heath winters. Whether it's malfunctioning, needs servicing, or is ready for a replacement, Newark-Heath Heating & Cooling provides the HVAC services you need: heating repair, maintenance, and new system installation.